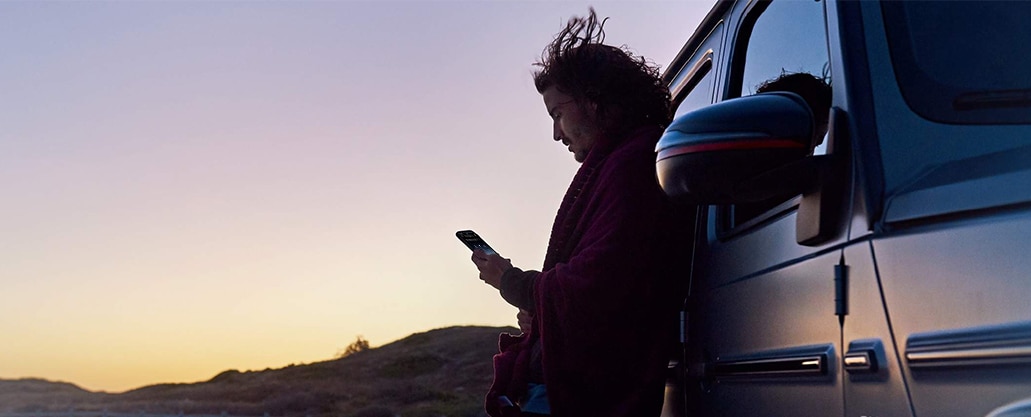 The Digital Extension of your Mercedes-Benz
Whether you're starting your engine, getting customer support or simply checking your fuel, Mercedes me connect is here to make life easier.
Start your engine - anytime, anywhere.
Mercedes me connect lets you prepare for any trip using the Remote Engine Start feature. You can cool down or heat the cabin, so as soon as you step inside, you're completely comfortable and ready to drive.
Remotely lock or unlock your vehicle
Wondering if you remembered to lock your doors? No need to worry, you can use the app to lock or unlock your vehicle at the tap of a button.
Easily locate your vehicle
You can easily see your vehicle's location, whether you're in a crowded parking lot or across the globe.
Get up-to-the-minute vehicle data.
Mercedes me connect provides a quick snapshot of your mileage, fuel level, tire pressure, fluids and more.
Send an address to your vehicle's navigation system.
Jump start your journey by sending the address of your destination straight to your vehicle's navigation system. It will be pulled up as soon as you start the vehicle so you no longer have to enter it manually, and you can easily save it for future use.
The Mercedes me connect App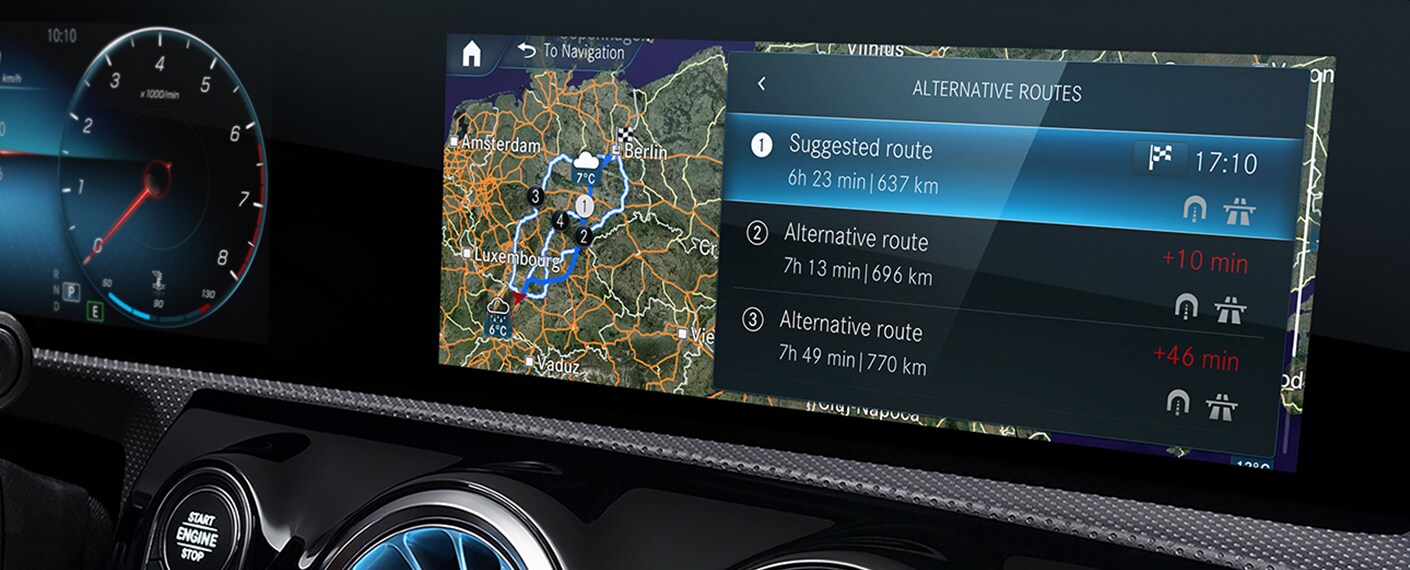 Get the latest updates, in your vehicle and on the go.
With Mercedes me connect, you may never want to exit your Mercedes-Benz.
Live Traffic Information
Online Map Updates
Car-to-X Communication
Advanced Speech Recognition and Natural Language Understanding (MBUX)
Software Updates
In-Car WiFi
DisclaimerTuneIn® Radio
… and much more!
How to Activate Your Services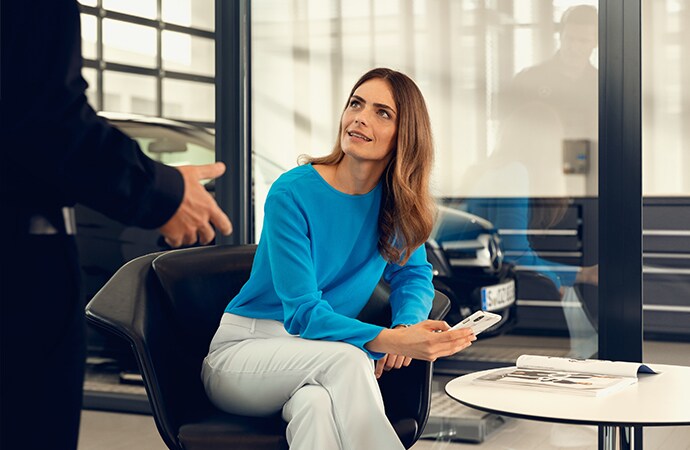 Pair your vehicle and activate services right from the app.
The Mercedes me connect app lets you pair your vehicle and activate services like Remote Engine Start, Remote Door Lock & Unlock, Locate Vehicle and more, all on-the-go. Simply scan the QR code in the vehicle's multimedia system, or enter your Vehicle Identification Number in the app to pair your vehicle. Then, touch one button to activate all of your services. If you need assistance, call 1-800-367-6372 or visit your Mercedes-Benz dealer.
In-App Features
Discover all of the features available with Mercedes me connect.
• Start your vehicle's engine remotely, and automatically heat or cool the cabin to your last climate control setting.
Remote Door Lock & Unlock
• Lock or unlock your vehicle from virtually any location, and know that your vehicle is always secure.
Remote Retrieval of Vehicle Status
• View the latest data from your vehicle, including mileage, fuel level, tire pressure and more.
• Send an address from your phone directly to the navigation system in your car. When you get to your vehicle, you can start navigating right away, or save the address.
• Get reminders of upcoming service, and call your local dealer to book a service appointment.
• View the current location of your vehicle on a map using your smartphone.
In-Vehicle Feature List
Discover all of the in-vehicle features.
Navigation Services
Live Traffic Information
View live traffic information and optimized route guidance on your vehicle's navigation.
Car-to-X Communication
With Car-to-X Communication, information is exchanged between vehicles on the road, alerting you to various hazards up ahead, such as an accident, fog or icy conditions.
Fuel & Charging Stations with Pricing
When viewing your navigation, your vehicle will display gas and charging stations on the map with helpful information like prices, fuel type, hours of operation and more.
Online Map Updates
Install the latest maps to your vehicle's navigation by downloading updates over-the-air, without affecting the speed or performance of the head unit.
Weather Overlay
Have the option to view location-specific weather and temperatures within your navigation map.
Assistance & Support
Maintenance Management
Easily view when your next service is coming up
Advanced Speech Recognition and Natural Language Understanding (MBUX)
For certain vehicles, Online Voice Control allows you to speak to your car and have it speak back.
Telediagnostics
With any vehicle, wear and tear is bound to happen. Be notified if your car is in need of servicing or a certain part needs to be inspected.
Accident Recovery
If you're ever involved in an accident, receive immediate assistance and have a towing service arranged via Roadside Assistance.
Breakdown Management
In the event of a breakdown, your vehicle data and position will be relayed to the Roadside Assistance Center for immediate assistance.
Remote Vehicle Diagnostics
Allow your preferred service dealer to remotely retrieve vehicle data ahead of service, so your experience is as smooth as possible.
Software Updates
Get the latest software installed over the air, so your vehicle is optimized with the most current information from Mercedes-Benz.
Emergency Call Services
Automatically receive help from an emergency response agent if you're involved in an accident, or place a call manually by pressing the SOS button in your vehicle.
Information Call and me Call ServicesDisclaimer
For general or Mercedes me connect-related questions, contact a Mercedes-Benz agent using the in-vehicle call button.
Entertainment
WiFi Hotspot
Your vehicle becomes a 4G WiFi hotspot allowing you to connect up to eight devices to the Internet.
TuneIn® Radio
Access TuneIn® radio using your vehicle's multi media system to surf between 70,000 live radio stations from around the globe. Search by artist or song, and explore categories like music genres, talk radio, sports and more.
Koons Mercedes-Benz of Catonsville

6631 Baltimore National Pike
Baltimore, MD 21228